Display Stands - Whimsey
Some rooms can appear too somber and unfriendly to be inviting. A bit of displayed whimsey can give an area character and warmth.
This picture shows four presentations: clockwise from the left rear they are a quilted makore veneered stand (14" x 12" x 42" tall), a tapered wenge veneered stand (21" x 16" base tapering to a 15" x 9" top, 33" tall), a maple burl veneered stand (6" x 6" x 12" tall), and a pommele sapele veneered stand (11" x 11" x 30").
The triplets are perched on an etched glass shelf.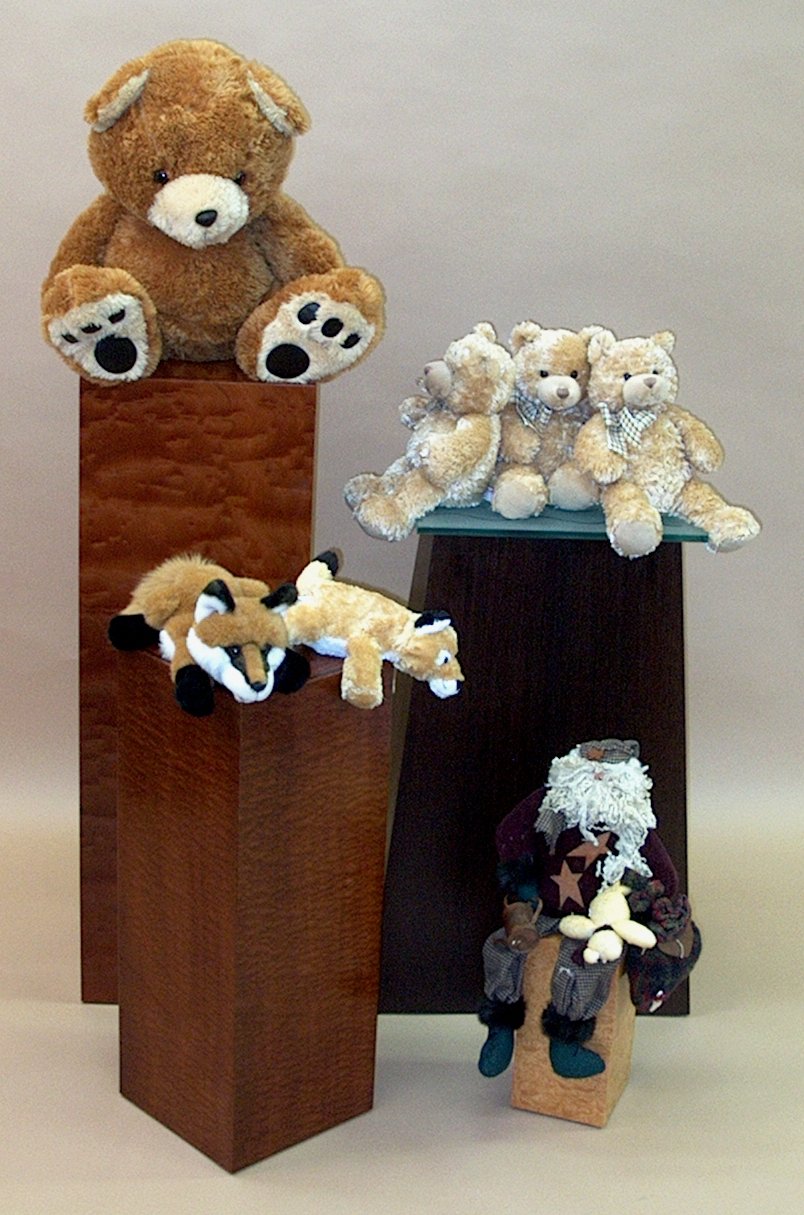 QUILTED MAKORE SIDES, INLAID QUILTED MAKORE TOP
The quilted makore has a very strong three dimensional look which helps draw attention to the bear. The darker areas of the veneer emphasize the dark pads of the bear's feet. And a large animal needs a large display stand.
TAPERED BOOK MATCHED QUARTERSAWN WENGE SIDES, DIAMOND MATCHED QUARTERSAWN WENGE TOP
A piece of sandblasted glass makes room for the three small bears. A strong curve in the glass adds catches the viewer's eye and begs a closer look.
SMALL SQUARE MAPLE BURL SIDES AND TOP
What better perch for a wizard than a swirling, variegated maple burl. The stand is a good height to give more prominence to a hand crafted doll. With such an elegant presentation on a desk or bookshelf, the wizard's magic should all be friendly.
POMMELE SAPELE SIDES, INLAID BOOK MATCHED POMMELE SAPELE TOP
On this almost three dimensional veneer, the fox kit and puppy are safe from the family cat as they look for more mischief. On a less active veneer the animals and stand would blur together, but the pommele pattern complements rather than competes with the guys.