Display Stands - Vases
Glassware and pottery of all kinds benefits from the prominent presentation that a veneered display stand can offer. However, more than any other type of object a striking piece of glassware or pottery probably benefits most from a complete design of stand shape and size, veneer color and figure, and top pattern.
This picture shows five presentations: clockwise from the left rear they are a figured cherry veneered stand (12" x 12" x 36" tall), a tapered maple veneered stand (13" square base tapering to a 10" square top, 40" tall), a pommele sapele veneered stand (11" x 11" x 30" tall), a fiddleback mahogany veneered stand (8" x 8" x 16" tall), and a button lacewood veneered stand (9" x 9" x 18" tall).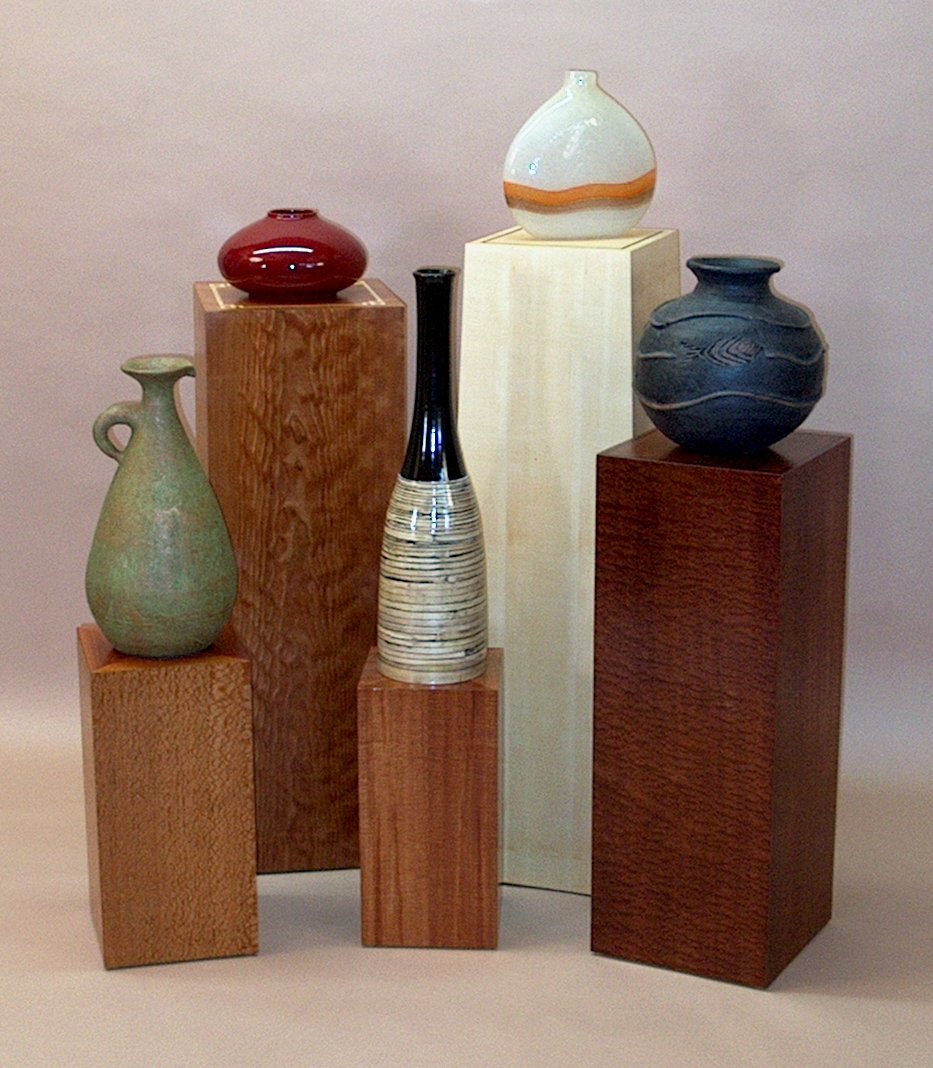 SQUARE "ROPEY" FIGURED CHERRY SIDES, INLAID "ROPEY" FIGURED CHERRY TOP
The "up-and-out" sweep of the figure seems almost to be reaching for the red vase, whose color is wonderfully complemented by the cherry. The swirling cherry figure also matches very well the shape and movement of the vase. And the sophistication of the greek key inlay complements the simple flowing curve of the vase.
TAPERED SLIP MATCHED MAPLE SIDES, INLAID SLIP MATCHED MAPLE TOP
The orange of the padauk inlay picks up the orange slash of the vase - this stand and vase are a smashing demonstration of a veneered display stand's ability to present an object. The vase would be clearly shortchanged if plopped on the typical flat white painted stand.
POMMELE SAPELE SIDES, INLAID BOOK MATCHED POMMELE SAPELE TOP
The almost ocean-like waves of the three dimensional pommele sapele support and highlight the movement of the bronze. The narrow black inlay at the outer edges of the top adds drama by suggesting the bronze is perched at the edge of a precipice.
SQUARE FIDDLEBACK MAHOGANY SIDES, REVERSE DIAMOND FIDDLEBACK MAHOGANY TOP
If designed with this vase in mind, the stand probably would have been made perhaps six inches taller and one inch wider. The strong vertical grain works well with the tall and narrow proportions of the vase, and the horizontal fiddleback figure lightly reflects the horizontal lines of the lower portion of the vase.
SQUARE BUTTON LACEWOOD SIDES, DIAMOND MATCHED QUARTERSAWN MAHOGANY TOP
The "netting" in the lacewood matches well with the similar figure in the vase. Although not tall enough to bring the vase to near eye level, the proportions of the vase and stand work extremely well together.