Display Stands - Art and Heirloom
An appropriately designed display stand helps focus attention, and brings to eye level, sculpture and other pieces of three dimensional art and family heirlooms. This picture demonstrates four presentations: clockwise from the left rear they are a tapered quartersawn wenge veneered stand (21" x 16" base, 15" x 9" top, 33" tall), a quartersawn walnut veneered stand (8" x 8" x 24" tall), a quartersawn wenge veneered stand (5.25" x 5.25" x 13"), and a fiddleback mahogany veneered stand (8" x 8" x 16"). As well as the color and figure of the veneer, the shape and dimensions of a stand can be designed to best match the size and proportions of the displayed object.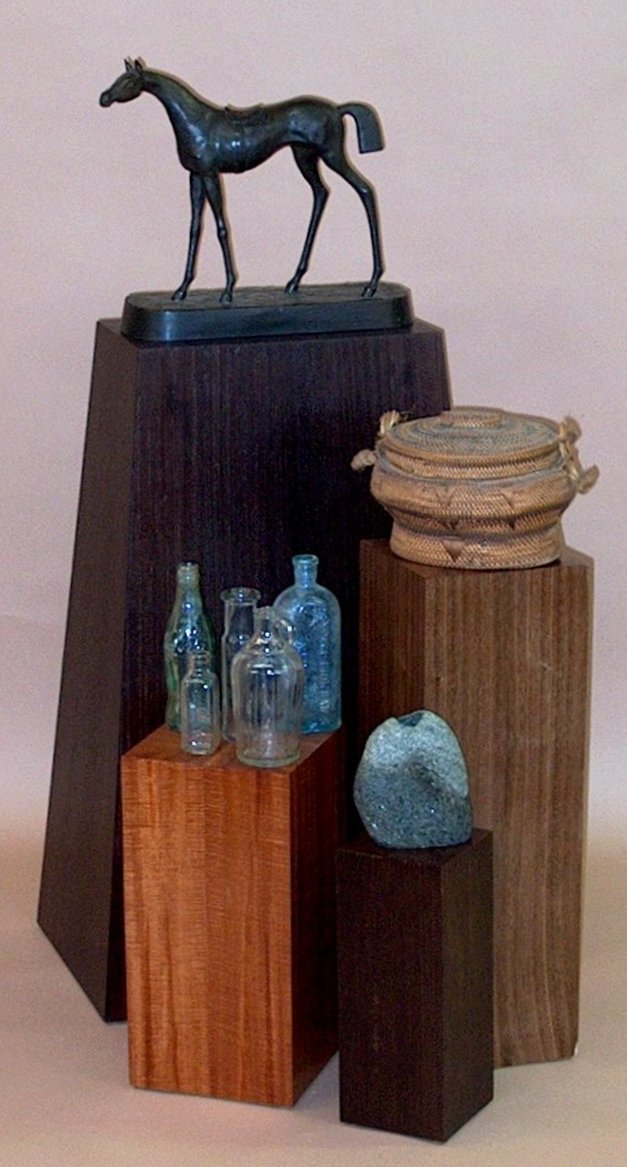 TAPERED BOOK MATCHED QUARTERSAWN WENGE SIDES, DIAMOND MATCHED QUARTERSAWN WENGE TOP
Designed by a local artist, a tapered rectangular stand covered with quartersawn wenge veneer showcases one of his bronze horses. The dimensions of the base and top reflect the proportions of the base of the sculpture. The tapered sides of the stand and the vertical grain of the veneer direct the eye up to the bronze. The diamond pattern of the wenge veneer top form a border for the sculpture's base. A hand-rubbed coat of linseed oil gave the wenge a darker look to match the dark tone of the sculpture, but the grain of the veneer gives the stand a muted character of its own.
SQUARE QUARTERSAWN WALNUT SIDES, REVERSE DIAMOND MATCHED QUARTERSAWN WALNUT TOP
The alternating light and dark grain of quartered walnut creates a very strong vertical look which might best be used for a very vertical piece of art. The piece displayed in the photo is a very finely crafted woven basket with an intricate imbedded design. The various shades of brown in the walnut veneer works well with those in the basket. The height is three times the width, creating a more dynamic lift. (If desired, the base of any stand can be weighted for more stability.)
SMALL SQUARE QUARTERSAWN WENGE SIDES, DIAMOND MATCHED QUARTERSAWN WENGE TOP
A smaller stand can be used to effectively elevate and call attention to a smaller piece such as this sculpted stone vase, an object that would otherwise be competing with the other items on a table top or shelf. This stand is 2 1/2 times as tall as it is wide.
SQUARE FIDDLEBACK MAHOGANY SIDES, REVERSE DIAMOND FIDDLEBACK MAHOGANY TOP
This stand offers a very dramatic figure which will not be appropriate for some displayed objects. Here, the number of vertical lines in the displayed antique bottles is complemented by the verticality of the veneer's wood grain. The height of this last stand is a more common twice the width of the base.